M2 Studio is conveniently situated in Makati with easy access to the cities of Pasay, Paranaque and Manila.
Mailing Address:
Emmanuel Residences Unit 201, 1128 Rodriguez ave. cor. Gen. Del Pilar Street,
Bangkal, Makati City, 1233. Metro Manila, Philippines
Commuting maps and directions:
Via Jeep (SLEX) get off at Magallanes
Via Bus (SLEX) get off at Magallanes
Via Train (MRT) get off at Magallanes MRT station
Via Bus (EDSA) get off at Evangelista, Bangkal
Printable driving map (for those with vehicles):
Press here to download
Interactive Map:
From Makati CBD – http://goo.gl/maps/Y9m1t
Driving map to the studio: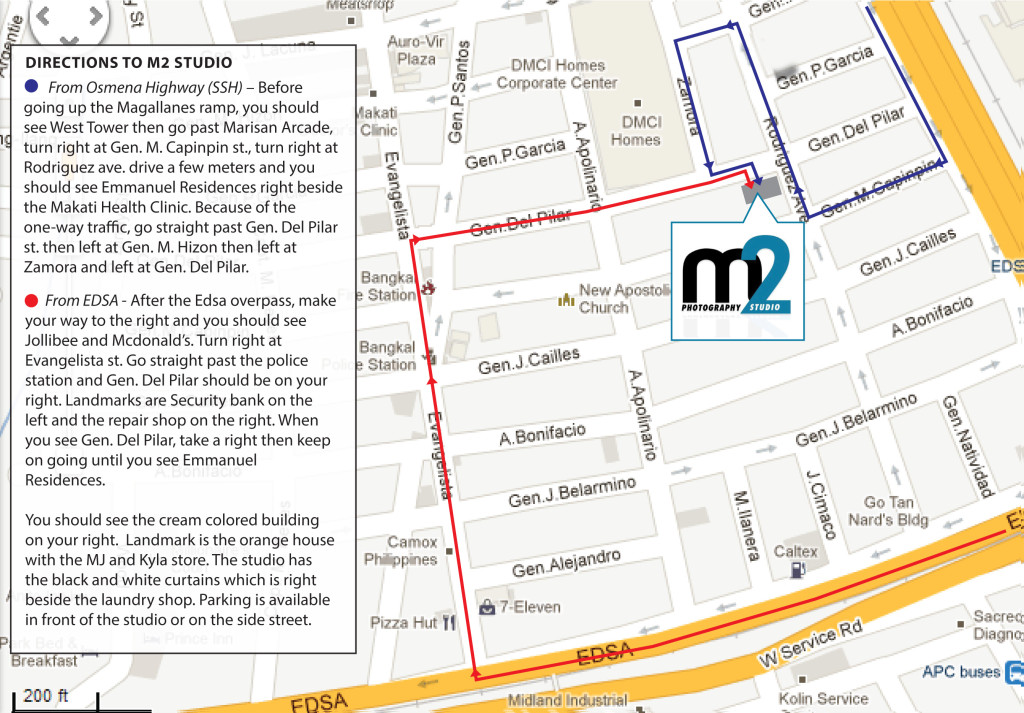 Driving directions to the studio:
1.) From Osmena Highway (SSH) – Before going up the Magallanes ramp, you should see West Tower then go past Marisan Arcade, turn right at Gen. M. Capinpin st., turn right at Rodriguez ave. drive a few meters and you should see Emmanuel Residences right beside the Makati Health Clinic. Because of the one-way traffic, go straight past Gen. Del Pilar st. then left at Gen. M. Hizon then left at Zamora and left at Gen. Del Pilar. 
2.) From EDSA – After the Edsa overpass, make your way to the right and you should see Jollibee and Mcdonald's. Turn right at Evangelista st. Go straight past the police station and Gen. Del Pilar should be on your right. Landmarks are Security bank / Family Mart on the left and the repair shop on the right. When you see Gen. Del Pilar, take a right then keep on going until you see Emmanuel Residences. (On the 5th street from EDSA, make a right on Gen. Del Pilar street.)
3.) From A. Arnaiz ave. – From A. Arnaiz ave. (formerly Pasay road) turn into Evangelista street. Turn right at Evangelista st. Drive straight until you go over the bridge. After the bridge, you should see Gen. Lim street. Go straight until you see Security bank / Family Mart on the right and Jophil repair shop on the left. Make a left at Gen. Del Pilar street, then keep on going until you see Emmanuel Residences. (5th street from the bridge, make a left on Gen. Del Pilar street.)